Char-Siu Style Pork Rashers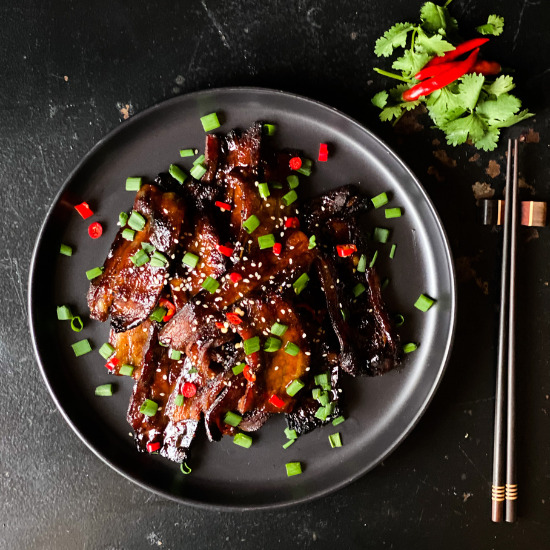 Ingredients
1kg pork rashers
Spring onion
Red chilli
Marinade
1/2 tsp 5 spice powder
1/2 tsp pepper
1/4 cup white sugar
1-2 tsp salt
1/4 cup sherry or port wine
1 tsp sesame oil
1 tbsp dark soy sauce
1 tbsp hoisin sauce
2 tbsp molasses
2 tbsp honey
2 tbsp minced garlic
1 tbsp red curry powder
Basting sauce

2 tbsp BBQ sauce
1 tbsp hoisin sauce
1 tbsp honey
2 tbsp sherry
Method
Prepare the pork rashers by cutting each rasher in half.
Marinate the pork rashers in the Marinade mix for a minimum of 30min.
Add the pork rashers to a preheated grill, grill until cooked with a sticky coating. Frequently turn the pork rashes as the marinade is sticky and will easily burn.
When removed from the grill baste the pork rashers with the Basting sauce.
Garnish with chopped spring onion and chopped red chilli
Grilled T-Bone Steak with Parmesan Pap Wedges
Ingredients
T-Bone Steak
Garlic
Butter
Rosemary
Fresh Chilli (optional)
Parmesan
Paprika
1 cup Maize Meal
Salt
Black Pepper
Olive oil
Canola oil for frying
Method
Cook the maize meal accordingly. Pour the cooked pap into a dish that is at least 2cm deep and use the back of a spoon to smooth the surface.
Once the pap has set in the dish, use a sharp knife to cut the pap into 8cm-long pieces and season with salt, pepper. Place the pap wedges onto a pan (on medium-high heat) with enough oil for shallow frying. Turn the wedges regularly until they become crispy and golden on each side. Once cooked, season the wedges with paprika and grated Parmesan. Set the wedges aside until serving.
Pat dry the steaks, season the steaks with olive oil, salt and black pepper. Heat a skillet on medium-high heat with 1 tbsp of butter, add in the steaks and sear each side for 2 minutes. Add in 2-3 tbsp of butter, 4 sprigs of rosemary, chopped fresh garlic and chopped fresh chili. Continue turning the steaks until it reaches your desired doneness.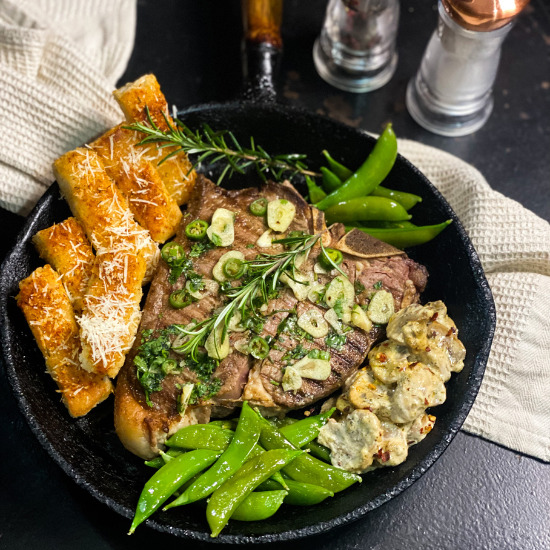 Serving Suggestions: serve the steaks with the Parmesan pap wedges along with some grilled mushrooms and sautéed snow peas.