Goat's Cheese & Sweet Potato Croquettes with Fonio Grain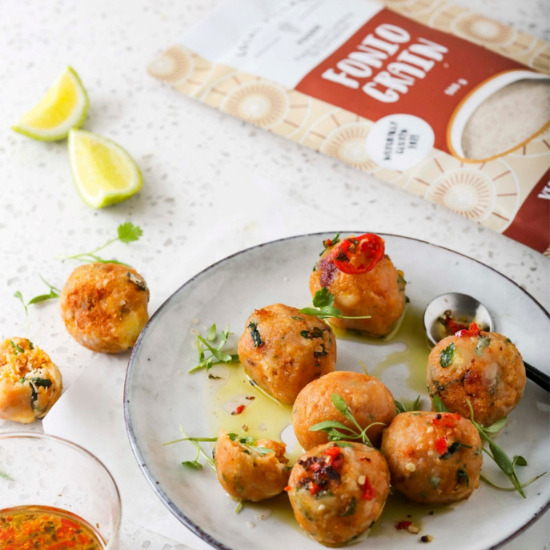 Ingredients
2 medium sweet potatoes (about 450g)
1 ¼ cup Local Village fonio grain
1 ½ cup of water
1 ¼ cup vegetable stock
1 tbsp olive oil
Salt to taste
200g goat's cheese or feta cheese
2 tbsp parsley, chopped
2 tbsp cornflour or cake flour

Vegetable oil for frying
Honey & chilli dressing
1 red chilli, finely diced
Handful mint or parsley leaves, chopped
¼ cup honey
2 tbsp apple cider vinegar or lime juice
¼ tbsp olive oil
Instructions
Set your oven to 170ºC, and prepare a baking tray with foil. Peel and chop the sweet potatoes into chunks. Dress with olive oil and scatter onto the baking tray. Roast for 30-45 minutes until tender. Toss halfway through to avoid charring.
Prepare the fonio grain by placing 1 1/2 cups water, stock and olive oil in a saucepan and bring to a simmer. Add the fonio grain. Cover the pot with a lid and cook for 1 minute. Remove from the heat and steam for 4 minutes. Remove the lid and use a fork to fluff the grains.
Once the potatoes are roasted, mash the potatoes roughly. Stir in 2 cups cooked fonio grain, and continue mashing until combined. Stir in the goat's cheese and parsley and season with salt and pepper.
Using your hands, place 1 heaped tbsp of the mixture in your hands. Roll into a ball, then roll through the flour to coat. Set aside
Heat the oil in a large saucepan. Bring to medium heat, around 170-180ºC if you have a thermometer. Add the fonio balls and fry for about 1 minute per side. Drain on paper towels and serve warm or at room temperature.
For the dressing, place all the ingredients in a bowl. Mix well until combined. Drizzle over the croquettes before serving.