Shaking Things Up With Kesego Moeng
The founder of Exuberant Sips, Kesego Moeng, famously known as Robust Hun, is a trailblazer in the mixology space. With only 4 years in the industry, and about a year of that consumed by the inactivity many entrepreneurs and businesses had to yield to in the face of the Covid pandemic, her come up has been one to behold! It all started when a Facebook friend, Tshepiso Moremi suggested she look into the bartending and mixology space. According to Tshepiso, Kesego had a knack for it, and he believed she could do really well if she just gave it a shot, and he was right!
Prior to this interaction, Kesego had never considered a career as a mixologist. However, she figured it wouldn't hurt to take Tshepiso up on his recommendation, so she did. She recalls her very first booking, which was also kicked into gear by Tshepiso, who she heavily credits and speaks about so adoringly for his hand in what is now brand Kesego Moeng and Exuberant Sips. "He suggested a business to help me get a mobile bar created and set up, and not only that, he offered to put in a good word for me to get it at a discount." Before the mobile bar was delivered, Tshepiso secured a function for her soon after.
Having never professionally mixed a drink before or possessed even a fraction of curiosity in the beverages, alcohol and mixology industry, Kesego had to learn, and learn quickly she did. At her first event as a mixologist, a large corporate function for one of the biggest law firms in Botswana, she remembers a night of endlessly flowing drinks from behind the bar and many compliments to the mixologist.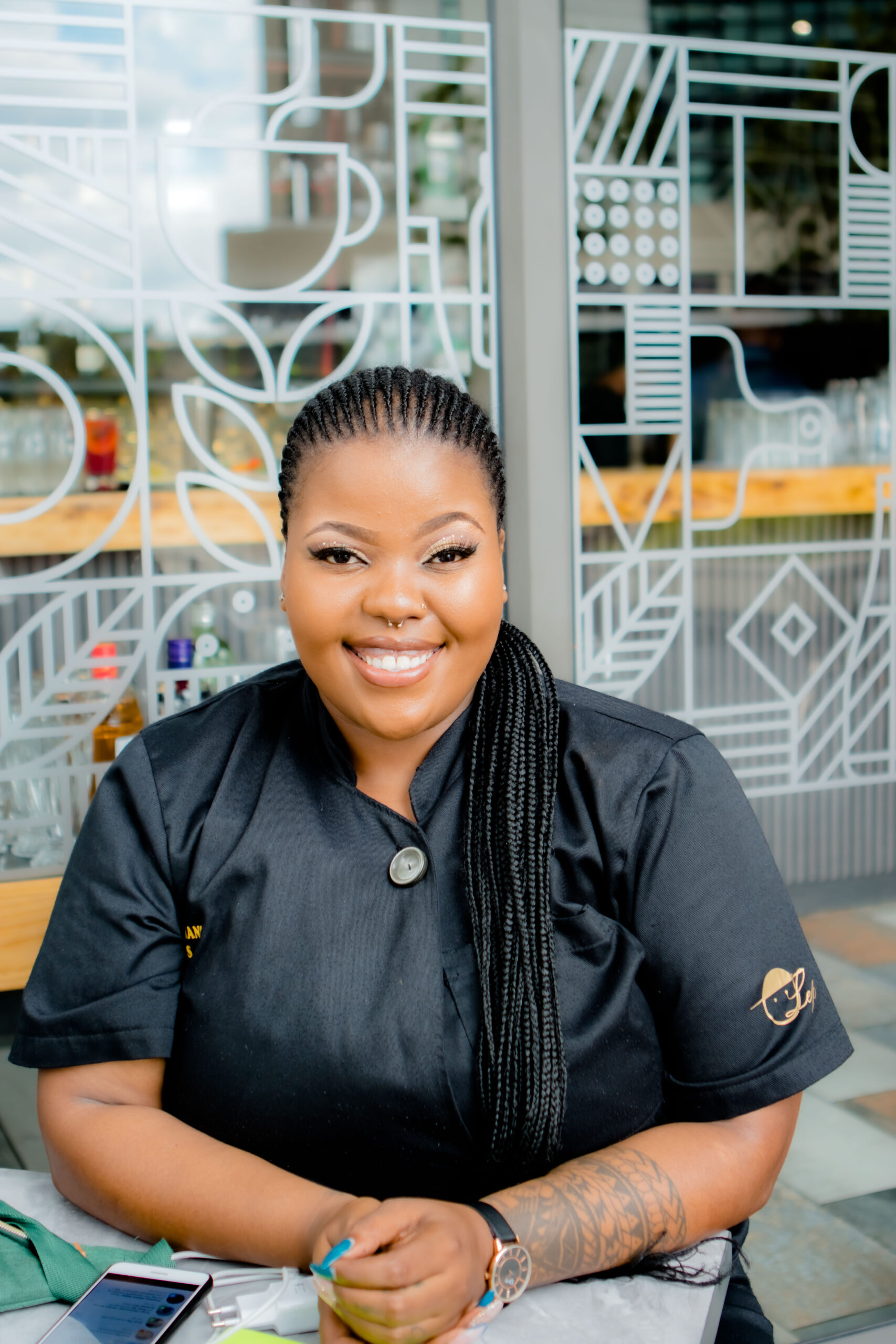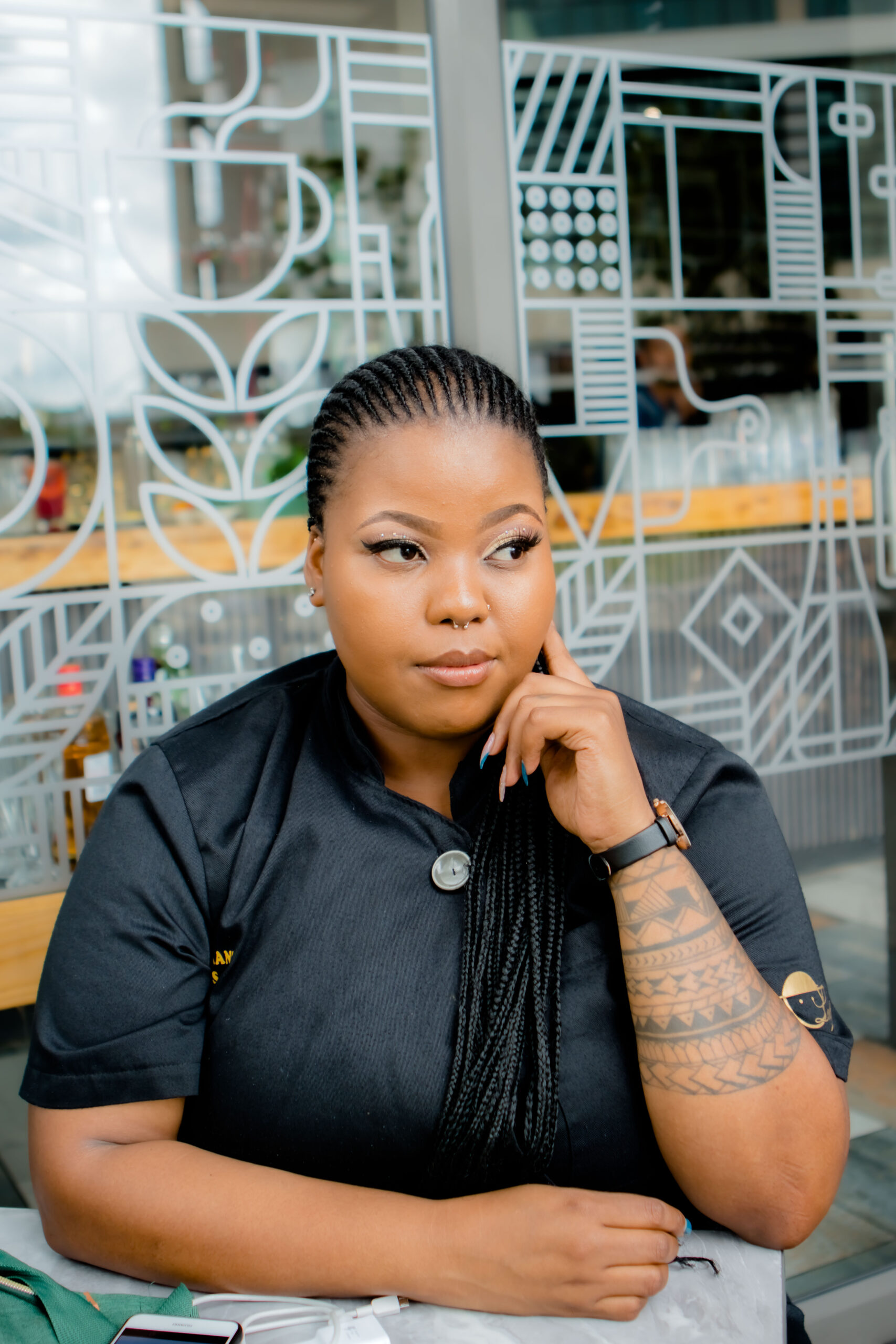 And then came the Schweppes mixology competition. Going into it, Kesego was only hoping to learn. It did not even cross her mind that she could emerge a winner once all was said and done. Her only goal when signing up was to enrich her craft and gain as much as possible from her fellow contestants, who all had significantly more experience than she did. As one would typically expect, the alcohol industry is dominated by men, and the contestant roster was a pure reflection of this reality. Being the only woman on the lineup was as intimidating to Kesego as it was exciting because as the competition progressed with each level, it became pretty evident that despite the odds being stacked against her, the title was just as much hers to win as her men counterparts. And at the end of a thrilling and exciting challenge, she emerged victorious in the Schweppes Mixology Competition. Her winning cocktail, the Robust Splurge, made of pineapple sorbet, whiskey gin and vodka with a tickleberry shot, is precisely how she would describe herself; "full of flavour, colour, radiance and robust taste."
The mixology contest was a tremendous growth catalyst for Kesego, the mixologist and Exuberant Sips, the business. Kesego's most notable career highlights thus far have been handling the drinks and offering bar services for other major corporations in Botswana, and she is only getting started. For the foreseeable future, Kesego would like to focus more on driving her digital presence and creating more mixology-centred content for her community of almost 70000 followers across various social media platforms.
*Alcohol is not for Sale to Any Persons under the Age of 18. Enjoy Responsibly.