The Perfect Guest Michaela Jacobsz
Hot on the Eswatini food scene is home cook and food blogger Michaela Jacobsz! She is the founder of The Hungry Hun, a food blog that started as a stress release hobby and quickly earned her the coveted number 1 spot at the 2021 Pick n Pay Luju Flame Master Cook-off. We catch up with Michaela to talk all about The Hungry Hun and her love and passion for food.

1. Please introduce yourself. Who is Michaela? 
Basically…If I was a chilli I would be a Habanero, bright, vibrant and a whole lot spicy. I am a 25-year-old home cook and food blogger from the Kingdom of Eswatini. My passions are cooking, food photography and environmentalism. As a budding environmentalist, I take pride in growing my own organic produce in ways that are sustainable, self-sufficient and healthy for myself and those around me. I love being immersed in culinary spaces and interacting with fellow foodies and wine lovers. To sum things up, I love to eat good food and will definitely not say no to a glass of wine.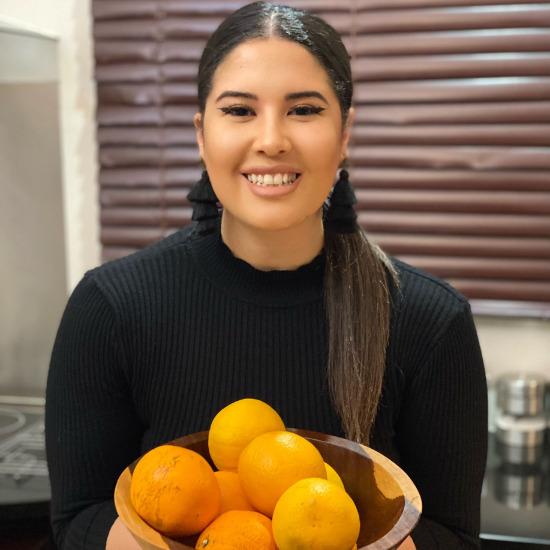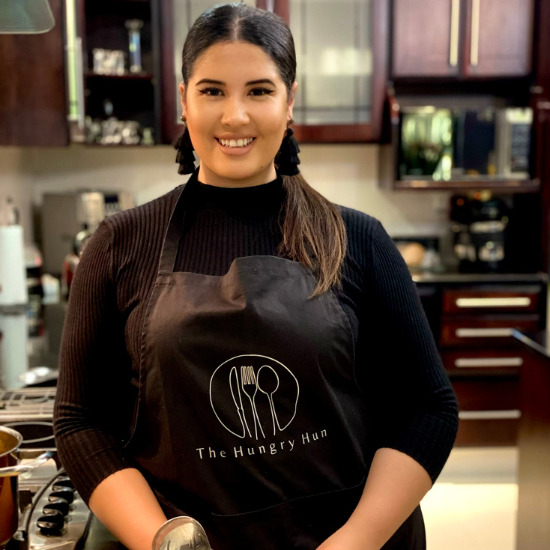 2. What is your food story? Please share what inspired your love for food. It's quite simple, I LOVE food. I come from a family with fantastic female cooks as both my mother and grandmother are culinary queens. My parents are also foodies who love to travel and try new foods, so from a young age my pallet was exposed to a wide variety of foods and it developed from there on. My food story is a bit peculiar, due to the fact that I am equally passionate about cooking delicious meals as I am about food photography and taking mouthwatering food pictures. Anyone close to me will tell you that Instagram eats before I do!

3. What is your earliest food memory?
Definitely Christmas lunch at home. My family tends to go all out and puts on an unimaginable spread from the traditional Christmas foods like your roast meats and vegetables to less conventional dishes like Chinese-styled duck, fresh Thai salads, whole poached salmon etc. The list could go on, while this is my earliest food memory it is also my most cherished food memory because I watched how my mother and grandmother would cook for hours and it shaped my understanding that cooking is a labour of love that has this magical way of bringing family and friends together.
4. What is your most nostalgic meal?
This is a weird one I know, but tuna and mayo with sweetcorn on toast. It reminds me so much of my best friend Ciara and when she would visit Eswatini for school holidays from the UK, it would be our go-to breakfast or snack growing up. I distinctly remember this meal so well, we even had our designated roles: she would prepare the tuna, mayo and sweet corn mixture, and I would prepare the toast and condiments. This is definitely my most nostalgic meal.
5. If you had to eat only one type of cuisine for the rest of your life, which would it be? Rank your top 3.
Asian Fusion – forever and always. Without a doubt. Will remain undisputed. Why I said Asian fusion is because I would not be able to choose between Chinese, Thai, Japanese and Indian cuisine. So, I rather place them equally in one category for my number 1 spot.
Italian – I can't say no to a good pasta
Mexican – I love the different blends of spice and strong flavours. Also, imagine being the cuisine that conceptualized guacamole? #iconic
6. How did "The Hungry Hun" come to life?
The "The Hungry Hun" started as a stress release hobby during the final year of my law degree in 2021. I felt like I was losing my mind trying to finish my degree mid-pandemic in the confines of my house. I needed a creative outlet to help keep me sane but also to lift my spirit as this was a very challenging period of my life. I would always post food pictures of my home cooking on my personal Instagram account and people would always encourage me to start a blog. On the 22 May 2021 I finally decided to start the Hungry Hun. Truthfully, I never expected it to gain this much traction and I am overwhelmed by the positive response I've received. I owe The Hungry Hun so much, it has been my peace, my constant creative outlet and currently a budding business. I can't wait to see what the future has in store.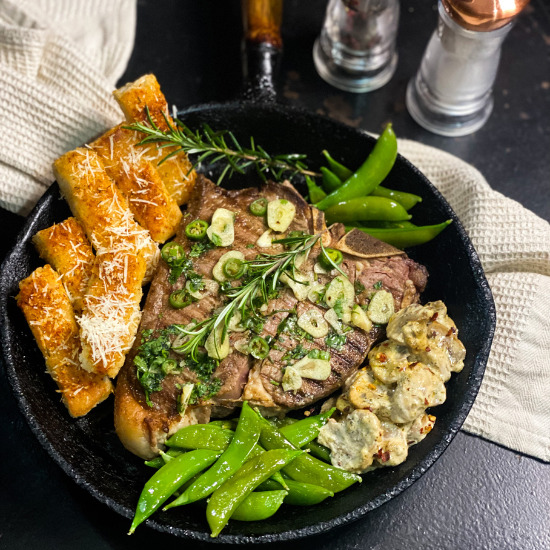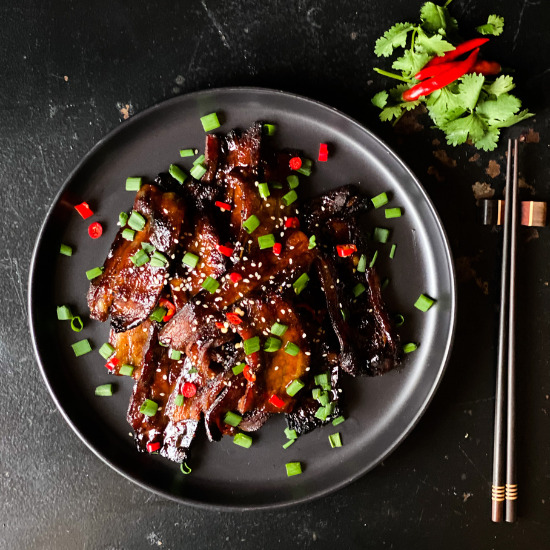 7. Tell us about your most memorable culinary adventure; where were you, and what did you eat?
My most memorable culinary adventure was winning the 2021 Pick n Pay Luju Flame Master Cook-Off. It was a live open flame culinary showdown without the use of pots and pans! Trust me and my ambitious mind to prepare gourmet dishes while cooking on open flames… it's safe to say I have a newfound respect and appreciation for foil. I prepared two dishes a main and dessert. For my main I prepared a spicy flame grilled mango chutney beef fillet, on a reconstructed mealie bread & jalapeno rosti served with sage-infused butternut and a chimichurri sauce. For my dessert – a flame-baked honey & rosemary camembert, on a bed of sweet balsamic onions topped with caramelized peaches, served with crunchy pecans and a fire toasted croissant. Winning the 2021 Pick n Pay Luju Flame Master Cook-Off really propelled my culinary career in Eswatini. The platform provided great exposure as well as brand collaboration opportunities for The Hungry Hun. Therefore, the competition in itself was unforgettable experience that I am glad I participated in.

8. What is the worst food you've ever tasted?
I don't think there's really a worst food that I've tasted but there are some flavours which I have tried and won't be trying again. It's not that they are bad, they are just flavours that I don't particularly enjoy. I think at the top of the list would be liquorice, I don't enjoy the taste, smell and texture. Consequently, I avoid using spices and herbs that have that liquorice taste like star anise and fennel. Apart from that, I'm very open to different unique foods and flavours.

9. What will you NEVER eat and why?
I am a very adventurous eater so there isn't much I that I don't eat or would not try…but I have to draw the line at the heads and feet of any animal. I'm not entirely sure why, but I can't fathom eating the head of something especially if the eyes are still in place looking at me. Then with feet, I just associate them with being filthy no matter how well they are cleaned and cooked, mentally I can't see beyond that.

10. What are your 'food peeves'?
Wow where do I even begin… When people don't wash their hands and fresh produce before cooking. Sloppy plating, food should always be appealing to the eye. I can't eat cold food unless the dish is supposed to be served chilled but other than that my food needs to be hot. Cooking curry from those DIY packets…that drives me insane. Lastly, don't come at me for this one… but If I'm dating someone and they order Lemon & Herb from Nando's… If they can't handle Nando's spice how are they supposed to handle the adversities of life.

11. What is your go-to lazy dinner?
Anything noodle/pasta related. I don't have a specific one but either a quick Carbonara pasta…yes with egg (if you know you know) or a spicy ramen with homemade chili oil.

12. What are your food aspirations – a cookbook, cooking show, etc.?
Definitely to expand the Hungry Hun brand beyond just being an Instagram blog. I would love to publish a series of cookbooks and to establish an affordable but environmentally conscious cookware line. I plan on expanding my reach as a culinary influencer through brand collaborations and partnerships. I would love to travel and blog different food & wines across the globe, I would like to have new food experiences as well as to enrich my constantly evolving knowledge of food. The opportunities in this industry are endless, who knows what the future holds for The Hungry Hun.

13. Who is your dream dinner guest, and what would you make them?
I don't have a particular dream dinner guest. I do however have a dream dinner party, where I would invite all my close friends that are spread across the globe and cook all our favourite meals ranging from butter chicken and garlic naan, to sweet and spicy pork tacos, we can't forget ramen, and of course Thai chicken satay with peanut sauce. It would be my ideal dinner party filled with laughter, delicious food and of course an endless supply of wine!

14. What ingredient(s) can't you live without?
Coriander (that's definitely my go to herb), garlic, fresh chilli, ginger, lemon grass and smoked paprika. I love strong fresh flavours. An honourable mention would be edible flowers, I love putting together beautiful plates and they are often featured in that process.

15. If you had to eat one meal for the rest of your life, what would it be?
It would undoubtably be Dim-Sum. I love Asian cuisine and the different variations and flavours of Dim-Sum that exist (there are over one-hundred different types), whether it be pot-stickers, bao buns, gyoza or shumai, I will enjoy them equally!