Good Food, Good Business.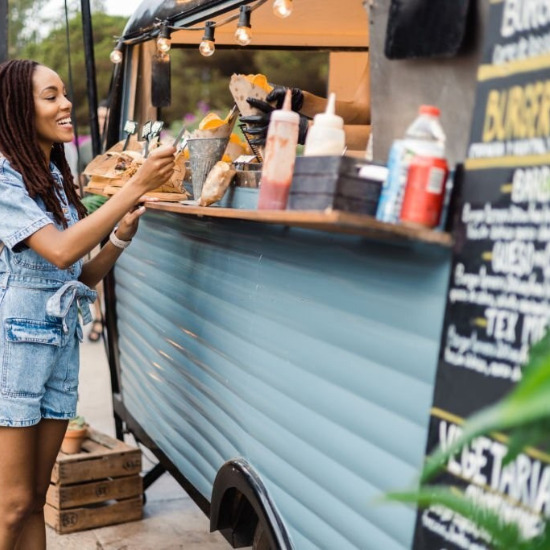 The Complete Guide to Preparing Your Food Truck for Fairs and Festivals.
You may receive frequent requests to become a vendor at events as a food truck owner. And while it may be tempting to say yes to everything, it is crucial to choose your festivals carefully. Find festivals where many people in your target group will be going, and make sure the food you sell suits the tastes of the individuals attending. You'll first want to know how many people are likely to show up.
Does this event happen often?
How has attendance been at past events?
How many people go to similar events?
And, if relevant, how many tickets have been sold?
The festival organisers should be able to answer these questions. You could also talk to other food truck owners who have been to similar events.
Top 5 tips for preparing a food truck for fairs and festivals 
#1 Permits and licenses
Look into the necessary licenses. A vendor's license or food handler's permit is typically required to sell food and beverages at fairs and festivals.
You may need to have your business licensed with the local health department, and you might also need to get a temporary vendor's permit for each event.
#2 Adequate staffing and customer service

To deal with the expected influx of consumers, ensure you have enough hands on deck.
Understaffing can lead to burnout and a decline in output.
Suppose you have a three-person crew; one person can be in charge of taking orders, another for preparing the food, and a third for delivering the food to the clients.
#3 Menu customisation

Make sure your menu has items that fit with where you are and what time it is.
Before you plan for each item you want to put on your menu, you should first decide what kind of food you will be serving. Then, think about your strengths, analyse the competition and try to find a gap in the market.
Menus for food trucks are usually small. And when people place their orders, they expect their food to come quickly. So it would be best to find dishes you can make quickly and easily.

#4 Inventory Management

Once you've finalised your menu, buy the food, drinks, garnishes, napkins, disposable utensils, and serving dishes you need.

You need to manage your inventory and manage it well. Know how much stock you need, when it's needed, and what kinds of products you need to serve your customers the best you can.

Here are some essential steps in managing your inventory:

Step 1

Draw up a list of what you have, including everything in storage.

Step 2

Create a demand forecast to estimate how many units you will need.

Step 3

Create an order prediction to predict future unit needs and order quantities for each inventory item.

#5 Costs of setting up the food stall

Before you sign up to sell at a festival, you should consider how much it will cost.

You'll be required to pay for your stall space before the day of the festival.

After the festival, you'll usually have to pay a percentage of the proceeds, which could be 25% or more.

Here are the main factors that affect the price:
Type of stall – Snack stalls will be priced lower than hot food stalls. If your product is likely to sell a lot, you might have to pay more for your pitch than a business that sells a more niche product, like smoothies.
Power needs – Generators and other outside power sources are often not allowed at festivals. But some will let you use their power for an agreed-upon fee.
Stall placement – The location of food stands at a festival is very important for getting people to stop and buy. You'll have to pay more if your booth is in a good spot, such as near the main stage at a big festival.
Size of the festival – The pitch price increases, the more prominent the festival is. For smaller crowds, it may be possible to negotiate these prices. Still, at larger festivals like the DSTV Delicious Festival, where you compete with bigger brands, pitch prices are likely to be higher with less room for negotiation.
Be prepared 

Have a backup plan for any eventuality; bad weather, poor festival attendance or cancellation.

Launch your advertising campaign as soon as you confirm your place at the event.

Repost articles about the festival, publish sneak peeks of the food you'll be providing, and use any hashtags the festival assigns to make it simpler to track changes.

In health, happiness, and good business,



Chef Lee