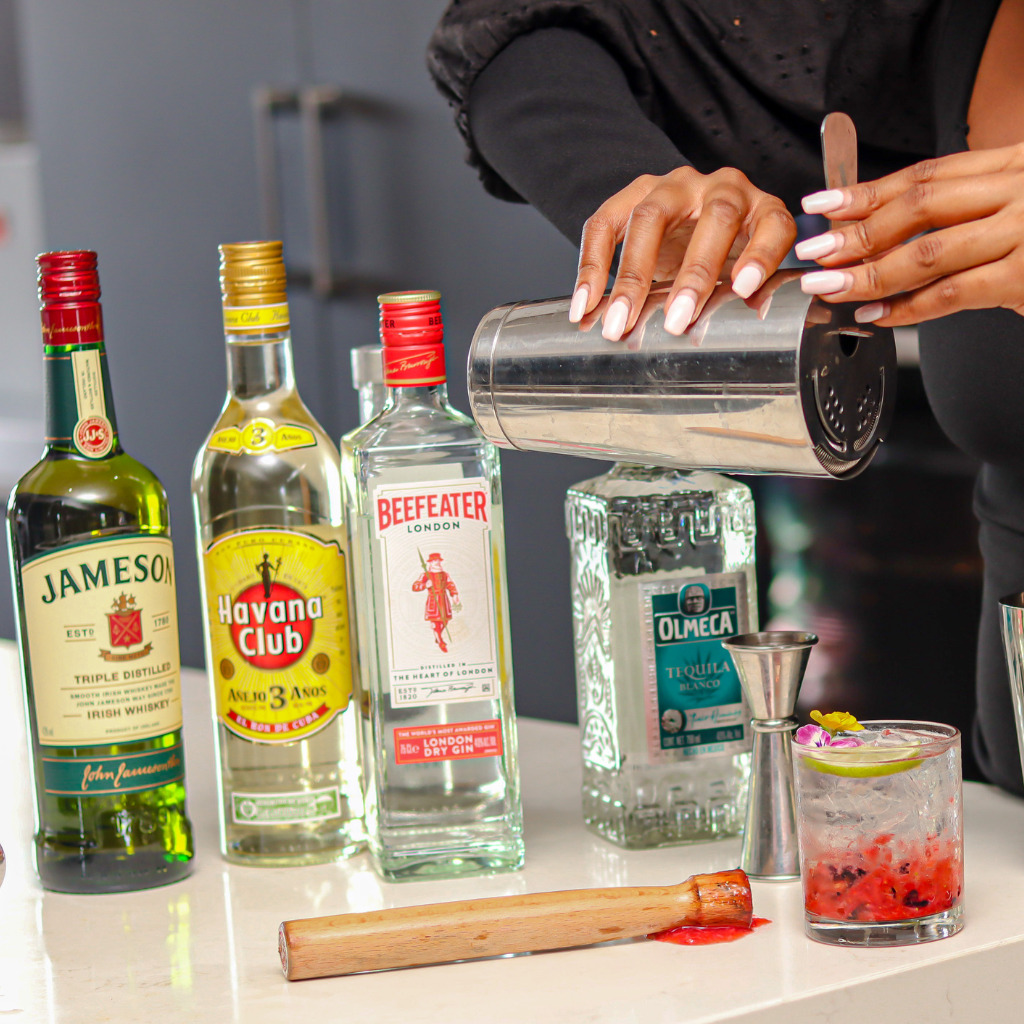 Regardless of how big or small your space may be, you can set up a beautiful functional bar, in your home. Bar carts are full of character, not only are they nice to look at and display with their luxe modern brass and mirror finishes, they are perfect for all the essentials you need to host family and friends and whoop up some delicious cocktails! And if you don't have a bar cart, the good old-fashioned way of packing away your essentials in a cupboard and bringing them out when needed works just as well. When it comes to your home bar, there are no set rules! You can tailor everything to suit your needs. Here's our top 10 list of a few basic elements you can customize to your taste for the PERFECT BAR!
There are five types of liquor that you should absolutely always have on your bar cart, a tequila, vodka, rum, gin and whiskey. Olmeca silver or gold tequila, Absolut Vodka, Beefeater London Dry Gin, Jameson triple distilled Irish Whiskey and Havana Club rum are great options. You never know what your guests may be in the mood for, a margarita, a mojito or maybe Tom Collins? With this selection of spirits, you should be able to pull off a wide variety of cocktails on demand.
These are standard for any bar. Almost every cocktail is a combo of liquor with one mixer or another. From your ginger ale, to the wide variety of tonics that are now available on the market. Mixers also help dilute the alcohol content in a cocktail, which means you can adjust drinks to match different palates and also cater for guests that do not consume alcohol.
If like many people you enjoy an ice-cold Malawian Shandy every now and then, you've tasted the bitters in it which is really what makes this cocktail special. Bitters are flavourful extracts that have added a whole other dimension to the basic cocktail. They introduce herbs, spices and other delicious notes to a drink. Aperitifs to also be considered for your home bar are Vermouth and Negroni.
Many cocktail recipes will call for the juice of some fruit or another, lemon or lime etc. And as tempted as you may be to reach for the store-bought processed box of juice, don't! Just get the lemons and a small hand juicer to extract fresh juice for your cocktails. It tastes so much better!
Do you really have a home bar and are you really making cocktails without one of these? Multiple varieties currently exist that are so convenient and easy to use. Reach for one with a strainer, it keeps the chunks of ice and fruit from slipping out when pouring into the serving glass.
This is the hour glass-esque creation takes the guess work out of your cocktails. It helps you with measuring how much, of what, is going into the drink. The really nice ones come pre-marked with measurements for the perfect cocktail serve, reach for those.
This is an essential tool, mostly wooden, to help you crush your berries, lime and mint on the go. It is small and compact, making for easy storage.
This is a no brainer. A bar without ice is unacceptable. You want your drinks to be cool at all times. Place your ice bucket and tongs in area that is easily accessible so that guests can refill at their convenience.
Not only do these make your drink really good to look at, they can also add flavour as well. For fresh garnish, storing longer than recommended would not ] be a good idea. Luckily, a bunch of dehydrated citrus and pineapple options as well as dried herbs make for easy long-term storage.
Every amateur mixologist needs one! Beyond cocktail recipes, it comes loaded with many tips and tricks on how to elevate your drinks for the perfect at home enjoyment.
*Alcohol is not for Sale to Any Persons under the Age of 18. Enjoy Responsibly.