Tigernut, Raisins and Almond Rusks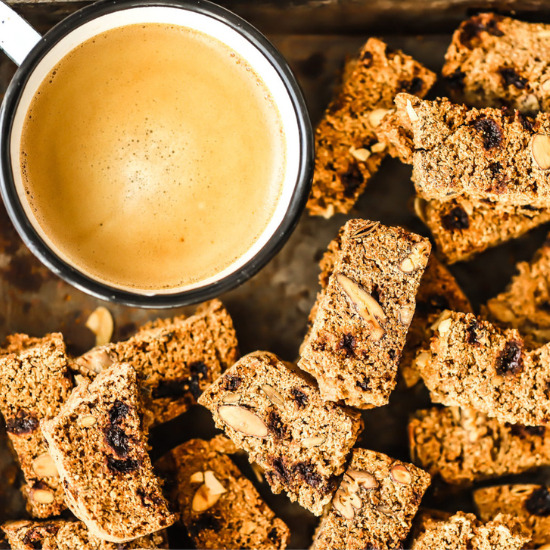 Ingredients: 
1 ½ cup tiger nut flour
2 ½ cups self-raising or whole wheat flour (gluten-free like buckwheat, rye or millet can be used)
1 cup coconut sugar
1 cup raisins
1 cup pre-roasted almonds
¼ cup shredded coconut
1 tsp vanilla extract
1/2cup coconut oil or olive oil
¾ cup coconut milk or full-fat cream
1 tbsp apple cider vinegar
¼ cup flax seed flour mixed with equal amounts of water for a flax seed "egg"
1/2 tsp salt
Instructions: 
Preheat the oven to 180 degrees Celsius.
Mix the flours, sugar, raisins, shredded coconut, nuts, and the salt.
In a separate bowl add in the oil, coconut milk, vanilla extract, apple cider vinegar and flax seed "egg".
Mix the wet in to the dry and then scoop into pre-smeared bread tins or rusk tin of preference, decorate with extra shredded coconut, and chopped almonds.
Bake for 30-35 minutes until brown on top and leave to cool before slicing into fingers.
Place on a baking tray to dry out for about two hours at 100 degrees Celsius.
Store in an airtight container for up to two weeks.